London Lovin 28th May – 4th June
Most pics on my FB album here.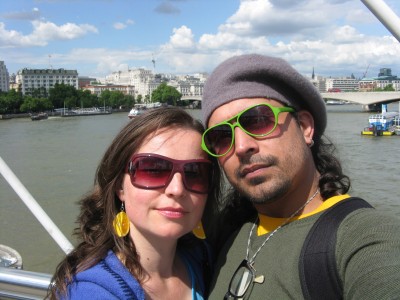 Saturday 28th – Wake, meditate. Leyton station is closed. Stress thinking I'm gonna be late but by the time I reach Brent Cross for my Bus to Luton, I'm 3 hours early! All good I have my lovely ebook reader and watch Death Note anime (big up Claudia and Tom for the recommendation). So at the bus stop we see this Jewish lady pass with 5 kids and one in the oven. Myself and this elderly African gentleman just keep watching for a while trying to calculate… he said something about her not getting a break and I was like 'yup, 9 months and back in business'. Get to the airport and kill time at arrivals. See a whole bunch of Barcelona fans coming out in bursts. Watch my English teaching vids.
Alina is in the house! Get to Baker Street, give Nahom a shout to see if he's in Regents park for a quick catch up. This homeless dude selling Big Issue was so determined to get a sale I told him I usually get one but not this time. Then he looks at Alina and it was so cute coz he had this puppy dog look saying you have to buy it. And she had the puppy dog look saying I don't know what you want. Until I told him she's from Poland and does not have the currency. Some note about Temerarie? Get home and we're so drained we take a Nap. Now I'd warned many times and in many ways how disturbing my house is. The walls are thin, lots of Bangla boys coming and going… even folks that don't stay here will be cooking in the kitchen and all. And my room is next to the front door, living room and kitchen. Well they were all there. But we still managed to fall asleep coz of the fatigue. It's weird… when we sleep together I get jerks that I usually only get when impressions are being released during my meditations. A wake up with a scare coz I heard one of the kids outside. And all the kid said was 'lala'. Alina said she didn't hear anything… and the laughing begins. Bangla guys make noise till about 2am.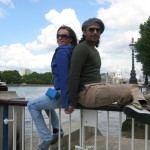 Sunday 29th – Usually these guys have no memory so nearly every other night I have to remind them to close the kitchen door if they're gonna cook late. Close their room door if they're gonna talk loudly. Turn down the tv volume if they're watching stuff after 11pm, etc. So I usually just do it from my bed. This time I reach round to open the door and Alina grabs my hand thinking I'm going to leave her. Aw + lol moment. I get a weird dream about Shanell biking or making me bike from Hurlingham or something. Brekkie. Alina is like I can't stand it here 1 night how have you managed for 1 year. I explained guruji's thing about at least keep one problem to chew on. And that I wanted to push my tolerance for a few months but then I met her and knew I could deal with it till I figured out my next move. Shop for tea coz she loves her teas. Go to the gym, hook Alina up with my ebook reader to watch some Planet Earth stuff while I get swole. Rest. Introduce her to (…) and clothes. Move to the Juri's ex room since he's moved out. Alina's happy so I'm happy. Cook. Sneak ciggy. Eat, chill, massage, sleep. Wow in this room the noises are louder but since it's upstairs it's much less in quantity.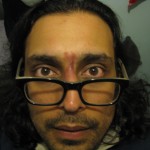 Monday 30th – Feed my baby smoked salmon, cheese spread. And strawberry and fruit yogurt for dessert. Sleep. Get Alina some paracetamol. Walk down Green Street coz she wants some Indian clothes. Figure out the difference between Salwar Khamees, Churidar, Chuni and Punjabi suit. I wanted to get some Kofis (those muslim hats). Before I go in I hide my crux and tell the guy I'm buying it for a muslim friend (just in case he's gonna be like it's only for our peoples). Alina is like I thought you wanted for yourself till I told her the plan later. Get a couple of dope ones. Get some Indian food. Introduce Alina to Mitho Paan and Manikchand. She loves the Manikchand. Bump into Bhavni doing shopping for Sach's wedding. Buy Alina a churidar. Get home and chill. I tell her about the sweetspot on my forehead and how it makes me happy and sleepy. She gives me a lovebite there. End up talking about Dr. Dre's song – I Need a Doctor. So I tell her the NWA, Eminem, Dre story. Do a Hari Om Meditation. It's about 28 minutes and I was gone for 20 minutes longer. And Alina was waiting all that time… when I finally come to and look at her… her mascara is running. So there we are… two people sitting crosslegged. One with a lovebitten forehead, one with smudged make up. Couldn't be happier… well we could in a better place but for us we just feel total when we're together. Get on the bus to go for Kriya and there is this guy that usually come on the 25 preaching about Freemasons. I was telling Alina that he usually carries big signs and is much louder. Just when we have to get off he busts out the signs. Turns out he was just preparing himself.
No Kriya happening in Ilford but some of the girls are gonna be taking everyone to the Canary Wharf Kriya. It was so packed and we were kinda late so we ended up on chairs in the back. And I was going in trance and nearly falling off the chair every now and then. Listen to some knowledge and I don't know why we have this thing where the teachers want us to discuss the knowledge after the Kriya. I mean we're in such a wicked state why get us out of it. I think it's coz they just like the sound of their own voice! Raphel gives us a ride back and basically it was 3 Polish people in the car and me. The other Polish person was Kamila who reminds me of my mom when she was young. Get home and finally talk to the Pakistani dude thats moved in. Adil. And it's back to bitching about how filthy these Bangla boys are. And that god awful stinky dry-fish. I wish there was a camera for scents so we could take memories of scents. It's soooooo bad I don't want to remember it but I want to share it with others. Back to my love and have a good sleep.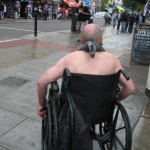 Tuesday 31st – All this moving suit cases around has got my nostrils sensitive again. Sneeze like crazy. Shopping in Stratford. Show Alina Camden. Just as we leave the station this dude selling cookbooks is like why don't you want one. Is she your wife? No. When will you get married. Um… I'm like dude not only have you mess up the sale you're gonna get me in trouble too. See some naked dude in a wheelchair. Oh beautiful Camden. Get Alina them hippie/traveller Thai style hoodie. We were both tired. I wanted to show her the world but the good thing when it comes to shopping is that we both know what we want… if it catches our eye will look again but otherwise don't give me marketing. I wanted to show her a proper 3D movie but the Waterloo IMAX times were already gone. So walk along Thames instead. Usual tourist posing and roaming.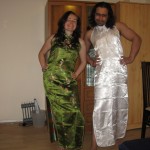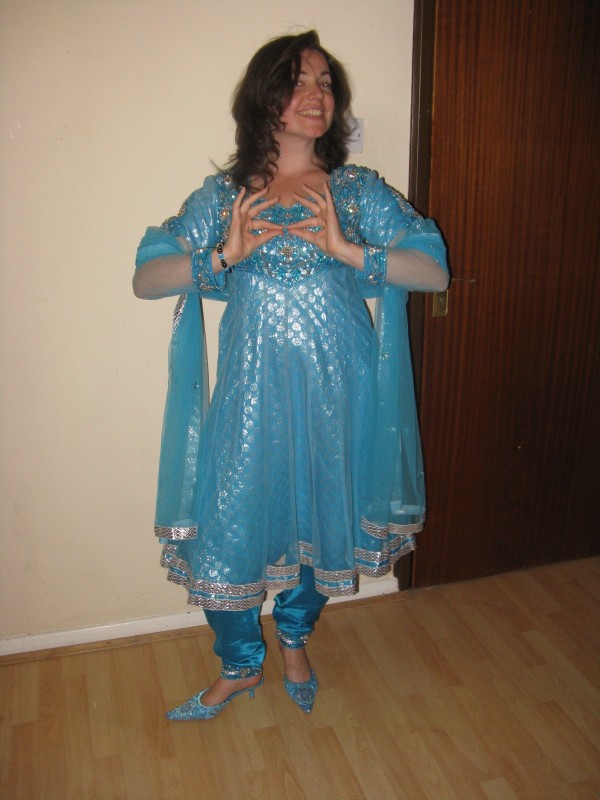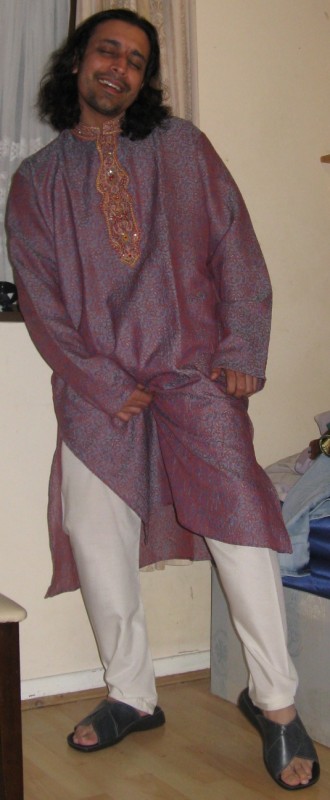 Head to China town. She tries out different dresses. She likes my choice in girl clothes and I like that she listens to me hahaha. Get her this long one instead of the short one. Trust me it was much sexier. I was still not giving up on the 3D cinema even though she was tired. But Stratford Picture House wasn't happening either. There's always tomorrow. Home, rest. Some more bitching with Adil. Now he likes to talk and Alina and I had plans of taking some crazy pics. Potato salad and tuna crunch dinner. Dress up and pics. Lots of jokes. (…). But I'm glad we talked. We really bonded and worked through it. I even felt something on my 'first chakra'.
Wednesday 1st – More major sneezing. Plan what to do. Alina gets lost in the bathroom thinking. Kung Fu Panda 2 in 3D is on! Buttttt we went when kids were on holiday so it was not only noisy with kids but they were all eating all the junk so wrappers were being scrunched and crap was being crunched. At one point I tell Alina to look behind and we just see lines of kids in 3D glasses. One hand holding the junk, another hand moving it to the mouth while their faces were facing ahead. Bus to the city. Intro Alina to Wong Kei's Aromatic Duck wrap and crispy pork belly. The bits she does not like… I LOVE. How convenient. Show her bits of Picadilly and Oxford. Shop for shoes. Tubes to Queensbury so I can intro her to Poussin too! Order takeaway though coz we were still full. Link with Sag and Poonam. Good to see Poonam's appetite has improved. Sag orders some other stuff too so Alina got to try some Kenya/Indian cuisine. Paan and Manikchand of course. Catch a black dude digging his nose. I think my site still has this note about black folks digging their noses without a care in the world. I call it stimulating the brain or 'the rotary telephone'. Alina can't stop cracking up. Get home and we have to move out coz a Bangla couple is moving in the room. The wife is soooo not happy with the house. She's like I don't know why my husband chose this. Since then she's been scattering all sorts of powders and bleaches all over the place. I'm starting to feel ill. Make Alina take more (…) clothes. She does some nose treatment to me that basically feels like my nose and lips are being burnt off with some ice-fire. I'm sick all night. Alina gets no sleep.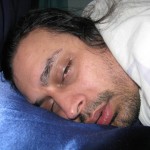 Thursday 2nd – Sick. Sleep all day. Alina goes for a walk. Bangla dudes have a lil party. Eat the take away Poussin. She doesn't like the skin… I love the skin! Go for a walk around the park, pond, kids playing area, etc. Back in bed. Tell the Bangla boys to keep the doors closed. And then at 11pm Kamal has a wise idea to hoover the place. I open the door again and see him there. I didn't even have to say anything he just stood there like a naughty boy caught and not knowing how to react. I wanted to blast him but it was so cute coz he looks like this midget bodybuilder. So I was like 'you can do this tomorrow right?'. No problem. So that was another terrible night coz folks where coming and going constantly and I was in a bad state.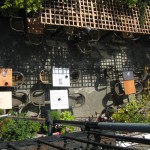 Wednesday 3rd – Alina tells me I woke up in the middle of my sleep asking her 'where are your lips?'. Poussin brekkie. Alina wanted to see a church so go to Bow Church but it's closed. So take her to my secret place. Candid Art Restaurant in Angel. Then go to St. Paul's Cathedral. But we have to pay there and she wasn't impressed enough so take more touristy pics. Back on the bus this rasta woman is playing a song I'd not heard in ages and she was enjoying it. Everyone else was falling asleep in the heat while she was singing and whine dancing in the seat. Print a gym pass just in case I recover enough to go for a session and Alina wants to workout, steam, sauna, etc. Look for house spirit for some Guasha treatment.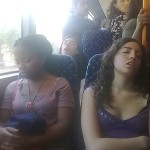 Ok … so like I said I warned Alina about the house especially the cockroaches right. I mean I have my own cutlery and crockery in my room. It's bad news, bad news enough that you can't miss 3 if you're in the kitchen. One might be near the fridge, one in a drawer or cabinet and one near the dustbin. But Alina did not see one up until now! I must admit the whole week I'd been feeling like I was in those movies where the person keeps someone busy so they don't know what is happening behind them. On day one when I was showing her where the hot water switch is I closed the door behind her and there it was. A cockroach (or as I call them now Bangla pet) on the door. So I'm trying to keep her focus on me… well not really trying coz she's already so into me. But I'm trying not to look at the roach and keep her looking away from the other side of the room. This happened many a time and I even barred her from entering the kitchen till I got sick. Anyway so after all these days she sees one and poor thing breaks down. I was like it's a small thing and people live in worse situations and just trying to change the mind frame with some NLP. She recovers and gives me a massage that left me scarred or like you know that wine stain Gorbachev has on his head? Most of my back looked liked that! And it was not painful, not funking painful… it was mother funking painful!!!! I was like you must have done it harder to get back at me for videoing you crying about a roach! Make Pau Bhaji. Give my baby a massage. Sleep.
Thursday 4th – Wake. (…). Pack. (…). Brekkie. Busses and tube missions. Do some Mahikari on Alina's stomach for her pain. It drained me enough to knock me out. Luton. Goodbye. Back to watching Death Note. Get to the gym and for some reason I'm able to lift a hell of a lot more weight. Get home and now theres a Bangla meeting with peeps making speeches and clapping. I do some rapping. Skype with Twinx after months. Can't sleep so watch stand-up comic Louis CK youtube.
Friday 5th – More Louis CK youtube. Big up Twinx for the Hilarious recommendation. But since I'm a Dane Cook fan. And Louis CK vs. Dane Cook is just as big as PC vs. Mac. All I'm gonna say is Louis CK is good but he's like Dane Cook on valium. Or Dane Cook is like Louis CK on coke. Bangla wife Rianna is still cleaning the kitchen. Rain. Gym. Etc.