Table Top Sale @ Shern Hall Methodist Church June 11th 2011
Since I've decided to move to Poland I need to ditch a whole lot of stuff FAST! And since I like trying new things all the time… why not a table top sale. Leave home and realise that the bus I need has been diverted so it wont be passing my way. Walk to the station bus stop. And see a while back one of my 'mentors' shared a method to help improve eye contact and I've been doing that ever since. Basically when you're walking you look at the person coming towards you and you hold it for longer than they hold it kinda thing. Well that was not the way to go this morning coz I did that to this dude that looked like Xzibit. And ever after passing me we kept looking at each other. I don't know why I was still looking but I knew he was 'tryna ack somebody'. So he's like what you looking at. I'm like I don't know and I don't know why. Well I didn't say that to him… it came out more like… what are you looking at? Lol I don't know the exact words but he come over to me. Pulls out a bandana and wraps it around his fist. I'm still like I don't know why I'm not reacting to this. So I'm still standing there. He's like you're looking at me like you know me. I'm like you look familiar. And all the time he's talking in the weirdest way I've heard. Kinda like Tyson but not so high pitched and with no eye contact and sucking his teeth after every other word. I couldn't even debate if I should tango with him coz I work in a prison now and don't want to take any risks. But at the same time I'm not gonna walk away. He stepped to me, he's gonna step away too. So I get in a discussion with him and NLP it to a totally different frame. Still sticking with I think I know you. Until he was tired of saying you don't know me and walked. Phew! I didn't want no bandana marks on my face.
Get to Walthamstow Station and the floor clearing is doing his thing with his machine. If someone is in the way he just whistles and carries on. But this morning we have a specially dumb crowd. See he circles round outwards so say he started from the seats the next circle he's make would be a bit more away from the seats and the next round even further away right? But these dumbasses move exactly where he's gonna be coming in his next round!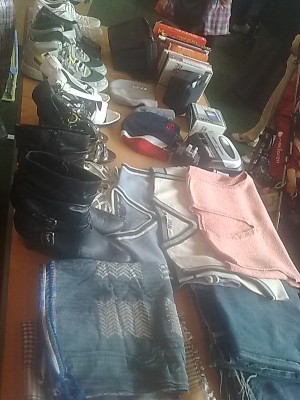 Get to the Methodist Church. I was thinking there'd be a lot of usual Jesus or Bible marketing or at least some sort of preaching. NONE AT ALL! Hell after I set up I noticed a proper mix of people. Even a muslim family selling things. Nobody buying yet. Find a Justin Timberlake biography for 30p… thought I'd get it for Viv but he declined. One of the ladies next to me pointed out this dog that looked like it was wearing dentures. It really cracked her up and I still couldn't see. I gotta admit… it was funny when I saw it. Finally sell my mobile, in Swahili, for 3 quid to a Somali dude. Same lady tells me that Somalian dude wants everything for free so watch out and don't negotiate too low. Somalian dude comes back and returns the phone coz it's got a 2 pin charger! Oh well sold it for 5 quid later.
Now this other lady behind me was a proper old mama. Just sitting there selling grandchildren merchandise. At one point she farted and yes I'm sticking with it. She did it and I know it in my heart and soul. I was the first to smell it and then the other lady. Other lady went to the loo and got air freshener. And the old lady is still sitting in her chair… everybody else has moved! Other lady got really pissed at started hinting to older later that people should go do that kinda stuff elsewhere if they feel the urge. And older lady was defending the farter… talking about oh it's natural and people can't help it etc. SEE it's all pointing to her… she's guilty! I should fart back! Hehehe.
Have a nice curry chicken and rice lunch. All these lovely old people working in this church. It didn't even look like a church… more like a school hall or something. I wanted to get rid of stuff so bad I gave away some videos and DVDs right from the start till the end. Older and other lady are bitching about all other things. Give things away since everyones closing up. Towards packing a kinda 'slow' lady comes to my table, looks at things and asks if she can take stuff for her 'boyfriend' and she's pay me next month. I was like I'm not coming back honey. She just kept talking about her boyfriend and how he loves playing PS etc. One of the frequenters gives me a look like that says I'm the victim this week. I didn't really mind, poor thing wanted to talk and feel something. I felt useful.
So back to Walthamstow. I discover a new route since my main bus is being diverted anyway so explore it. I'm so glad I did. This muslim uncle was the driver and he was one of those happy noisy people. Before driving off he's like 'is everyone ready for the ride', singing away and at turns he's be like 'hold tight!'. Give away most of the rest of the stuff at the British Heart Foundation. The lady was looking at me like why do you have women's shoes. And then she was like you gave me all apart from that one pair. I didn't have the heart to give those… I want money for those!!! Home, dump, gym. I'd cancelled my membership at the gym yesterday and wanted to confirm today but that stuck up receptionist Sunny is like you should have asked for this and that. And I'm like how am I supposed to know the procedures that YOUR STAFF ARE MEANT TO KNOW!??? Anyway gonna make sure it's cancelled. So I have till end of July. Do my saturday hour of cardio watching Samurai Champloo… I've watched a few episodes and not too impressed so wont be continuing that. Get home to Adeel and Rihanna cleaning the kitchen big time. So I was like wicked things are getting sorted and the Bangla boys are not here so I'm gonna have a good night… yeah right.
Adeel and Tony (Bulgarian housemate) decide to have a drinking session. Woken up at 2am with pumping music and guys shouting. I mentioned elsewhere that I usually still stay in bed, open my door and request to keep it down. So there I am trying to tell them to keep it down. Adeel has stepped out of the house by now so when I shout YO, Tony thinks it's Adeel and just shouts YO back. At one point he dances out of the living room and sees my head and freaks out. Trying to figure out why I'm kneeling at my door. I'm like turn it down a notch please. So he runs in the living room, Adeel walks in the house passing my door and sees my head too. He's giving me a look like why is my head a quarter way up the floor and horizontal. I don't know if I wanna laugh or cry or just funk it and join them.