​Around 2005-2007 I was getting out of a bad place. David Deangelo and Dr. Paul Dobransky taught me something deeper than this. One of the few videos I've still kept for personal development. Deep Inner Game DVD 6 to be specific ;o)
Dr. Paul Dobransky

Self esteem: You (and groups) have boundaries and doors. Depending on what you'd like to open doors to e.g. win-win situations. You decide!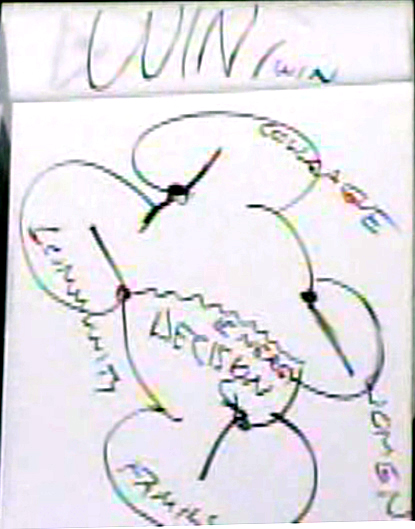 This picture shows Colleagues, Women, Family and Community as the boundaries and the doors to them.
When it comes to groups like a company you want to join, the company has it's own boundaries and so do the individuals in the company. Together they have a set of shared ideas (mission statement). If the individuals have poor boundaries like anger, it will come on to you.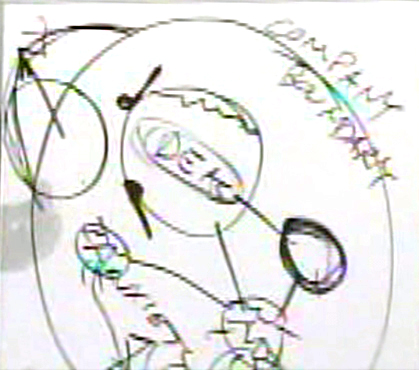 Here an innovator (R&D) of the company is pushing the boundaries and if it sits well, that is how much the company's boundary will grow too.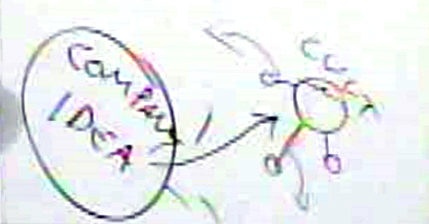 This shows what happens if the innovator goes too far and tries to pull in others. They end up forming a cult which wouldn't last too long.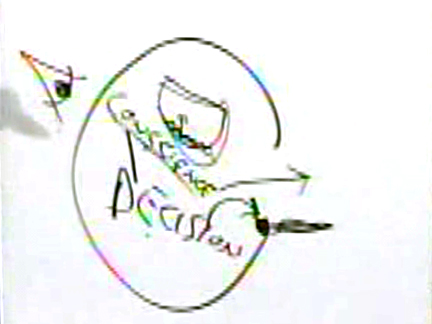 When you have been doing things that are ethically wrong and you use your observing ego to see that it's not right. You decide to close the door on yourself after raising your conscience.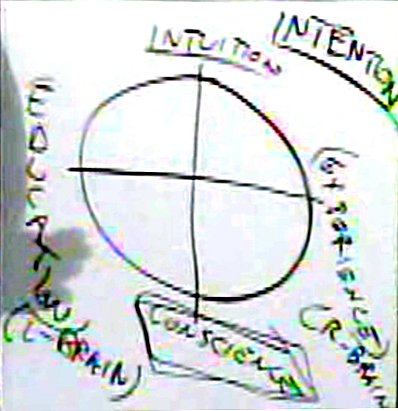 Intention needs a right balance of the 4. Education, Intuition, Conscience, Experience. Fun fact: The literal translation for Sin in Aramaic is to 'miss the mark' which is much more forgiving than what the shame the preacher man makes you feel.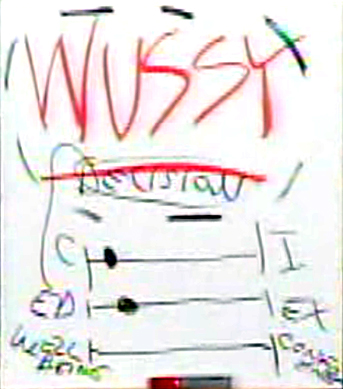 Wussy concept – Has a lot of holes in his boundaries and would rather get a woman/mommy/daddy to get come in and take over the decision making. For decision making: Conscience vs. Intuition. Intellect: Education vs. Experience. Emotional energy: Well-being vs. Confidence. (Paras note: The well-being/nurturing and courage bit really helped me as those are mother and father traits respectively and I needed to be my own parent to fix a lot of things – Personal story here).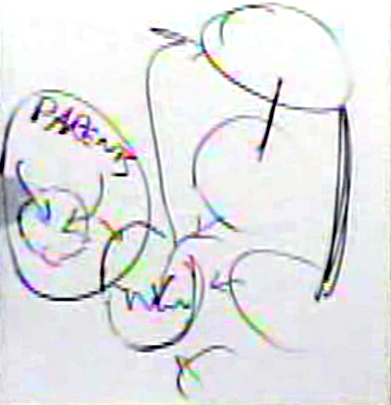 Individuation is where you start going out on your own to figure things out after your parents have taught you (if they're present or parent figures) as best as they can. You start to explore different groups and figure out your boundaries. Until you're totally independent of your parents. Connected to all these groups but still separate and distinct. I hope the text explains what the images can't and vice versa.
Richard aka Billy


Made his mind up to lose weight no matter what it takes and in turn helped his game with women. A lot of it is inner game stuff. I'm not sure if I can share the videos of these as his big is really funny so will try to include it. Otherwise I'll just summarise the inner game stuff.
People have made phenomenal changes just by changing their belief systems. E.g. A man had a lip growth and was told it's a curse and will die straight after so his whole appearance changed over night, lost weight, hair colour changed, etc. Until his follow up with the doctor who removed it and just said it was scar tissue after which he recovered.
You made up who you are so you can go in and see if that is still what you want to create. You are not who you think you are and you can start architecting yourself. Your bring is constantly telling you you will fail so rewrite it and instruct it the way you want.
His favourite affirmations are – Things just work out for me in life. My life just keeps getting better and better everyday. I am strong, powerful, committed and driven. I adapt and overcome at lightening speed. I'm comfortable with hot women being attracted to me (pre-supposition). I am the power. Build your own that speak to you.
Trust your unconscious.
Make a mental note of where you have come from and how strong you are.
Quote from the movie Heat (paraphrased): Don't let yourself get attached to anything you are not willing to walk out on in 30 seconds flat if you feel the heat around the corner..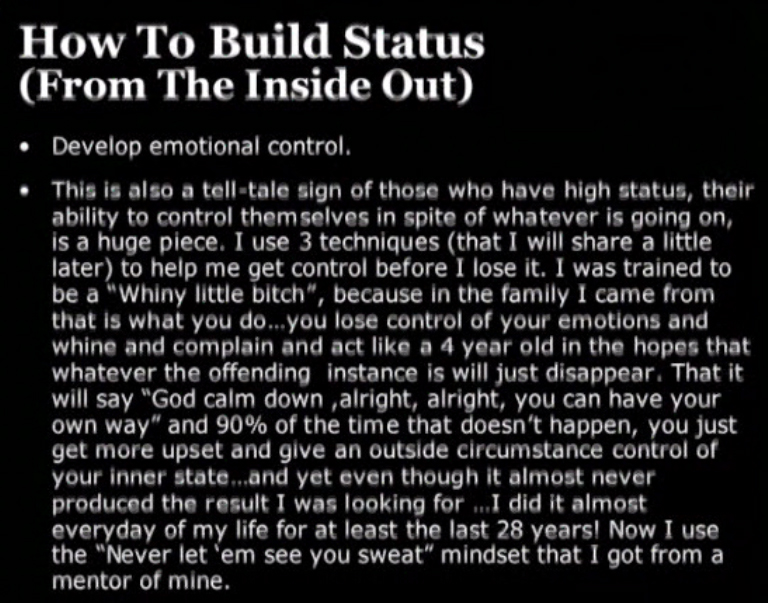 Stop seeking other peoples approval. If you're not on your journey for you and your life then it's all BS.
Self appointment. If you don't live for you others will decide who you are and what you're about. The self esteem you get from this does a lot. Martial arts reference about being committed to the path and not the destination. Masters have masters and they have masters. Practice and fail to get better as more knowledge is gained from the failures. The reason you're not successful enough is because you've not failed enough, fail more and faster (Robert Kiyosaki). You train over and over until you do it unconsciously. (Paras note: This part took me back to when I really got into fixing myself and I have to admit all this information has become pretty basic to me but I am very grateful for it and we could always do with a refresher.)
Gaining Leverage: When you get angry ask if it's worth getting angry about and learn from it or use it in better ways. Is it really worth it. Acceptance vs. resistance. Decision vs. indecision. Victim/injustice vs. life student.
Goes with the attitude of him going through things no one will ever face, know what others are too ignorant to comprehend and may look dumb for a while but in this path he's get stronger and much further down the path than others will ever go. Taking pride in the failures.
Mind being like a garden metaphor (I love this bit): Everyday you have to pull weeds. Maybe you go through a time where you're pulling weeds everyday. Then you go through a time where you're hoeing ;oP. And after you're doing hoeing, it's time to plan your seed. (Pull weeds, not pull YOUR weed ;op).
The greats reinvent themselves. You can too.
Develop a panic room in your mind. A safe spot where nothing can truly hurt you.
People do stupid things. It's them not you. Don't internalise it or take it personally.
Let yourself be human and forgive yourself. Nearly everyone has been through what you're going through at some point in their lives. (Reads a nice part from the Emotional Resilience book).
David DeAngelo – Deep Inner Game – DVD 6 – Chapters
Total film length : 01:52:20:03
Chapter 01 = 00:00:00:00 – Politics
Chapter 02 = 00:13:40:00 – Group Boundaries
Chapter 03 = 00:21:27:50 – Ethics
Chapter 04 = 00:33:19:00 – Forgiveness
Chapter 05 = 00:39:34:00 – Wussy
Chapter 06 = 00:47:38:50 – Individuation
Chapter 07 = 00:52:16:50 – Introduction
Chapter 08 = 00:55:13:00 – Richard
Chapter 09 = 01:01:53:50 – Who You're Not
Chapter 10 = 01:09:35:50 – The Mind Virus
Chapter 11 = 01:18:03:00 – Emotional Control
Chapter 12 = 01:24:05:00 – Gaining Leverage
Chapter 13 = 01:31:57:00 – Depression
Chapter 14 = 01:42:39:00 – Let Yourself Be Human